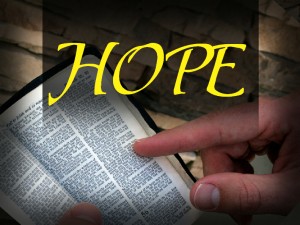 What is Hope?  The Hebrew word means: expectancy, something I long for, to wait for, to be patient for. The Greek word means:  to anticipate with pleasure, expectation.
Romans 8:24 For we are saved by hope: but hope that is seen is not hope: for what a man seeth, why doth he yet hope for? 25 But if we hope for that we see not, then do we with patience wait for it.
Hope is our belief and anticipation for what we look forward to, but haven't yet realized.
Hope is like faith                             (it's about something you can't see)
Hope is like anticipation               (you are waiting for it to occur, or to see it)
Hope is like expectancy                (your certain it will, just not certain when)
Hope is when you anticipate or expect by faith.
Someone said: Hope is  "a strong and confident expectation."  That is because a Christian's hope is not based in wishful thinking, or horoscope happiness but is based in faith in God.   Christian hope is tied to faith in God.
A Christian's definition of hope is far superior to that of the world.  Instead of wishing or hoping for something to happen, a believer knows that their hope is certain; it is solid, concrete evidence because it is grounded in the Word of God and we know that God cannot lie.
What does Hebrews 11:1 say?  Hebrews 11:1  Now faith is the substance of things hoped for, the evidence of things not seen.  We hope for things not seen, faith in God's word is the substance, the tangible evidence for our hope. We don't hope there is a God like others hope there are aliens. We hope with faith in God's Word. Our hopes are based in God and his promise.
The world hopes in rainbows, and fortune cookies, and lotteries, and falling stars, and etc…We hope in God.  Psalm 42:5 Why art thou cast down, O my soul? and why art thou disquieted in me? hope thou in God:  Psalm 38:15 For in thee, O LORD, do I hope: thou wilt hear, O Lord my God.
So, the Christian's hope for the future and hope of good things to come, is not silly schoolgirl wishes, it's not pie in the sky theology, it's not foolish minded people, it's not hail-Marry passes.
The Christian's hope is expectation based in faith in God and His Word.
Romans 5:2-5 is a good outline to learn about our hope as a Christian.
I.  Our Hope Gives Us Reason To Rejoice (vs. 2)
Because of what God promises us, we have so many reasons to rejoice in hope.  Praise the Lord for hope found in Christ.  I can't give you much hope for the world's future, or America's future, but I can give you many reasons to rejoice in a Christian's hope for our future.  What I mean is that having a Christian's hope gives us many advantages and blessings and gives reasons to praise God for his goodness.
It Gives Us Rest
Psalm 16:9  Therefore my heart is glad, and my glory rejoiceth: my flesh also shall rest in hope.
It Gives Us Joy/Happiness
Psalm 146:5 ¶ Happy is he that hath the God of Jacob for his help, whose hope is in the LORD his God
It Gives Courage/Strength Of Heart
Psalm 31:24 Be of good courage, and he shall strengthen your heart, all ye that hope in the LORD
It Gives Us The Watchful Protection Of The Lord
Psalm 33:18 Behold, the eye of the LORD is upon them that fear him, upon them that hope in his mercy;
It Pleases The Lord
Psalm 147:11 The LORD taketh pleasure in them that fear him, in those that hope in his mercy.
II.  Our Hope Grows Stronger In Tribulation (vs. 3,4)
The reason being we have three resources that will build us up during those times of tribulation.
Remembering The Works Of God
Psalm 78:7 That they might set their hope in God, and not forget the works of God, but keep his commandments:
Remember The Words Of God
Psalm 119:49 Remember the word unto thy servant, upon which thou hast caused me to hope.
 The Power Of The Holy Spirit                      
Romans 15:13  Now the God of hope fill you with all joy and peace in believing, that ye may abound in hope, through the power of the Holy Ghost.
III. Our Hope Will Never Make Me Ashamed     (vs. 5)
I will never have egg on my face, never have to admit that I was wrong when my hope is in God.  Have you ever hoped your team would win and they lost.  That will never happen to those who hope in God.  We will never be ashamed, never have to hang our heads, and will never lose in the end.  All the things that we hope for as a Christian – not one will fail, not one will be lost, not one will fall by the way side.  Our hope is certain because it's based in faith in God.
We Hope In Righteousness
Galatians 5:5 For we through the Spirit wait for the hope of righteousness by faith.
We Have Hope In The Gospel
Colossians 1:23 If ye continue in the faith grounded and settled, and be not moved away from the hope of the gospel, which ye have heard, and which was preached to every creature which is under heaven;
We Have The Hope Of Salvation
1 Thessalonians 5:8 But let us, who are of the day, be sober, putting on the breastplate of faith and love; and for an helmet, the hope of salvation.
We Have The Hope Of Eternal Life
Titus 1:2  In hope of eternal life, which God, that cannot lie, promised before the world began
The Hope Of Christ
1 Timothy 1:1  Paul, an apostle of Jesus Christ by the commandment of God our Saviour, and Lord Jesus Christ, which is our hope;
No politician, no business man, no athlete, no philanthropist, no educator, no scientist, nor doctor is my hope. My hope is not in man, my hope is in one person – Jesus Christ.  And I will never be ashamed in Him.
My hope is built on nothing less than Jesus blood and righteousness
I dare not trust the sweetest frame, but wholly lean on Jesus name
On Christ the solid rock I stand all ground is sinking sand, all other ground is sinking sand.
– S. Borner, Pastor
Adapted from Sunday Morning Message